Skip to Content
Teeth Whitening in St. Louis and St. Charles
Stained teeth can contribute to insecurities and lackluster social lives. Popular, safe, and effective, teeth whitening can eliminate discolorations and reveal a brighter, whiter smile. With a more confident smile, you can start sharing your smile and embracing life like you never have before.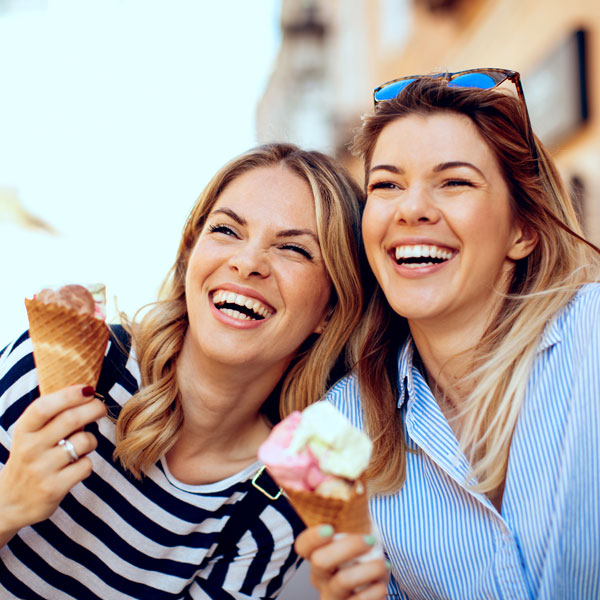 Whitening Options
After visiting us for an examination, Dr. Stolle will determine the best teeth whitening option for you. We offer two different treatments:
In-Office Whitening: The easiest way to whiten your teeth safely and in a timely manner. We will apply a professional bleaching gel that, after less than an hour, removes stains and makes teeth significantly whiter.
At-Home Whitening: This consists of us creating clear bleaching trays based on impressions taken of your teeth. As you apply the gel to the trays and wear them daily, you will start to see results immediately. The most drastic results take place after one or two weeks.
With our quick, convenient teeth whitening options, you can see your smile transformed in no time. If bleaching, however, doesn't give you complete satisfaction, we may recommend porcelain veneers or cosmetic bonding.
Why Teeth Discolor
Optimal oral health doesn't always result in a bright white smile. Teeth can stain for various reasons, including chemicals in foods, beverages, and tobacco. The aging process may cause the color of teeth to change. In some cases, patients develop discolored teeth through genetics, as natural teeth are not always white, but sometimes gray or yellow.
To discuss your cosmetic dental concerns and decide on a professional treatment that suits your smile, give us a call and schedule an appointment. Please contact one of our offices in South St. Louis County or St. Charles, MO!